LOVEBITE, an exclusive awards winning healthy snack brand by SDM GLOBAL, is taking the Malaysian market by storm with its truly yummy-licious freeze-dried series. This article will dive into the delicious and nutritious world of LOVEBITE crisp and explore how this brand is changing the snacking game.
A Healthier Snack Alternative
SDM GLOBAL, a snack wholesaler founded in 2019, is committed to providing affordable and healthy snacks. Their exclusive brand, LOVEBITE, offers a range of freeze-dried products, including freeze dried strawberries, dried Trio yogurt cubes, freeze dried mango, freeze dried banana, and freeze dried Mix 8 vegetable crisps. During the last Lunar New Year 2023, LOVEBITE even introduced limited-edition Freeze Fried Dragon Fruit and Korean Crispy Seaweed snacks.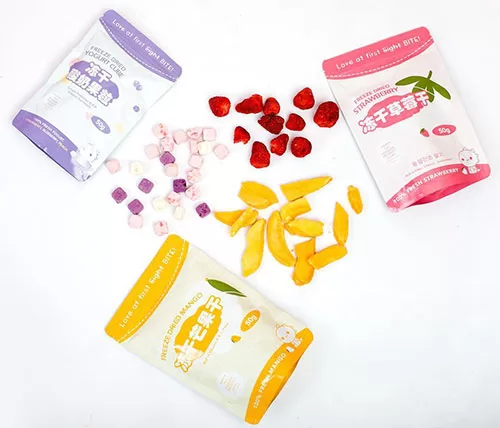 LOVEBITE Crisp are currently available in the following:
Freeze Dried Mango

: Savor the tropical essence of real mangoes, guilt-free

Freeze Dried Strawberry

: Taste the luscious, sweet, and juicy strawberries in every bite

Freeze Dried Banana

: Delight in the natural sweetness and satisfying crunch of bananas

Freeze Dried Mix Vegetable Crisp

: Relish the colorful, nutritious, and tasty medley of veggies

Freeze Dried Yogurt Cube

: Enjoy the perfect balance of creaminess and tang in a delightful, bite-sized snack
Utilizing Innovative Freeze Drying Technology
The LOVEBITE snack series employs FD Technology (Freeze Drying Technology), which preserves up to 96% of vegetable and fruit fiber and nutrients. This process ensures that the products are mainly free of additives, coloring, and sugar. As a result, consumers can enjoy guilt-free snacking without worrying about gaining weight or compromising their health.
Not only are LOVEBITE snacks low in calories, but they also deliver a refreshing and crispy taste, making them an ideal choice for people who may not typically enjoy fruits and vegetables.
Quality and Hygiene Guaranteed
SDM GLOBAL maintains strict control over the production process, ensuring that only the best ingredients are used in their snacks. Each product is sealed and individually packaged to maintain hygiene and protect against moisture. This dedication to quality led to LOVEBITE receiving the prestigious "IAQ Consumers' Choice International Recognition – Platinum" Certification from IAQ on December 30, 2022.
Discover LOVEBITE Crisp Today
For those seeking a healthier and more delicious snacking experience, look no further than LOVEBITE. With their innovative freeze-drying technology and commitment to quality, this exclusive Malaysian brand offers a guilt-free, tasty alternative to traditional snacks.
Personal message from the Easy Wholesaler Team: We're absolutely smitten with LoveBite's freeze dried mango – it's truly divine! Our team just can't get enough of it, and it gets a unanimous double thumbs up from all of us. Oh, and the freeze dried strawberry  and banana are delightful as well!
If you're considering adding LoveBite Crisps to your product lineup, please don't hesitate to get in touch with us. As an authorized distributor for LoveBite Crisps in Penang, we'd be delighted to assist you!