From 10th to 12th Nov, our Tanjung Tokong Sales Office is the place to be for unbeatable deals for our Super Sales Event in conjunction with 11.11. Remember, these special offers are exclusive to our Tanjung Tokong location.
Vouchers and Complimentary Gifts
Ahem… For every RM100 you spend, a RM10 gift voucher will be yours. Plus, with every purchase of RM30, RM60, or RM100, you'll receive a complimentary gift!
And for the vouchers obtained at our Tanjung Tokong Sales Office, please be aware of the following terms of use:
The voucher is not redeemable for cash.
The voucher is valid for use with a minimum purchase of RM100.
Voucher is stackable bu each voucher can only be applied towards a purchase amount of RM100 or more.
The voucher is only valid in our Tanjung Tokong Sales Office.
Feast your eyes on these irresistible low-price offerings:
Chiatoro Chilli Snacks: RM8 per pack, no minimum purchase.
Hiive Fruit Juice: RM2.10 per bottle, minimum 12 bottles. Mix and match flavours!
Himalaya Salt Candy / Himaya Vajomba: RM14.30 per box, each box contains 12 packs. Minimum 1 box.
Master Kang Si Fu Honey Pamelo Drink: RM31.50 per carton, each carton contains 15 bottles. Minimum 1 carton.
Snackiss Seavits: RM6.70 per pack, minimum 30 packs. Mix and match flavours!
Wong Lo Kat Herbal Drink: RM40.50 per carton, each carton contains 15 bottles. Minimum 1 carton.
Event Details:
📅 Dates: 10th to 12th November 2023
📍 Location: 100-2-5, The Landmark, Jalan Tanjong Tokong, 10470 Tanjung Tokong, Penang
🚗 To Get Here: Click here for the Google Map and click here for the Waze Map
📢 Important Note: Limited stocks available. First come, first served! This Super Sale is only valid at our Tanjung Tokong Sales Office.
Stocks are limited and will be sold on a first-come, first-served basis. We appreciate your understanding and look forward to seeing you soon!
We warmly invite you to bring your friends and family along to experience our exciting sales event! There's nothing quite like sharing the joy of finding great deals with your loved ones.
Our array of special offers and complimentary gifts with purchases are perfect for group outings, where everyone can find something they adore. Plus, the more, the merrier – not only to enjoy the shopping but also to take advantage of our fantastic deals. Come, make it a day to remember with those who make every moment count!
For those who are unable to attend our Super Sales event at the Tanjung Tokong Sales Office, we invite you to visit our eShop for some fantastic discounts. However, please note that the discounts on the eShop may not be as substantial as those available at the Sales Office.
By using the coupon code "SuperSales" in our eShop, you can enjoy a 5% discount on all products. Important note: Please ensure to use this coupon code to avail the discount.
If you're unsure where to enter the coupon code on our eShop, you can do so on the Checkout page. Below is a screenshot for your reference.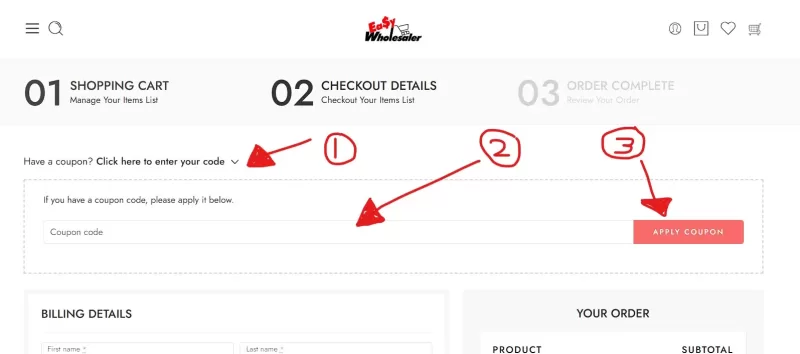 And below are some promotional banners for our Super Sales event. These banners have been designed to capture the excitement and value of our sales event. They highlight some of the key deals and offers available, making it easy for customers to see the savings they can make.
We hope our beloved customers take advantage of our Super Sales event and enjoy the fantastic discounts on offer.