Introducing CHIATORO: The Game-Changing Super Chilli Snack
In the quest for the perfect fusion of superfood and snack, CHIATORO has created an unbelievably delicious and nutritious snack that's taking the world by storm. Their innovative chili snack is crafted using a unique method that transforms spicy chili into a crispy, mouth-watering treat with 90% less spiciness but retains all the health benefits you desire.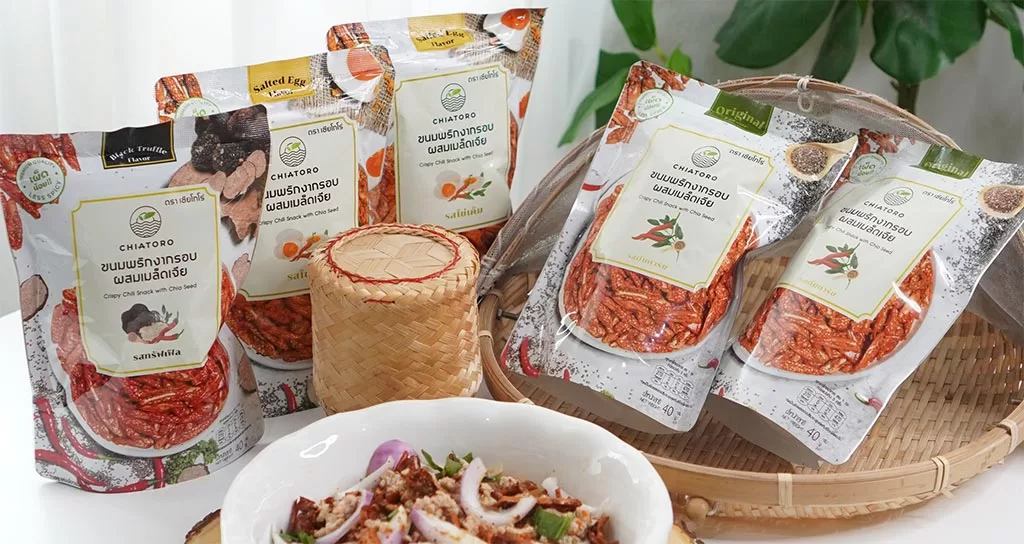 Health Benefits: Boosting Metabolism and Improving Digestion
CHIATORO's chili snack not only offers a burst of flavor but also provides numerous health advantages, such as stimulating metabolism, promoting fat loss, and improving your digestive system. The secret lies in the Cayenne Chili, which studies have shown can increase metabolic rate by up to 30 minutes after eating and create a feeling of fullness, helping you resist indulging in unhealthy food choices.
First-of-Its-Kind: CHIA Infusion in Chiatoro Chilli Snacks
What sets CHIATORO apart from other snacks is the infusion of Chia seeds in every bite. Often hailed as the "King of Superfoods," Chia seeds are packed with vital nutrients, vitamins, minerals, antioxidants, good fats, and healthy enzymes. These tiny, mighty seeds ensure your body can efficiently process and utilize all the nutrients they contain.
Flavors That Will Make Your Taste Buds Dance
CHIATORO's snack selection is nothing short of extraordinary, featuring five tantalizing flavors to suit any craving:
The Original – The classic taste of CHIATORO, where it all began.
Black Truffle – A luxurious and earthy twist for the sophisticated palate.
Real Salted Egg – Rich and savory, this flavor will leave you craving more.
Crab & Curry – A delightful blend of seafood goodness and aromatic spices.
Creamy Tom Yum – A zesty, tangy explosion inspired by the famous Thai soup.
With such a diverse selection, there's a CHIATORO flavor for every snack enthusiast.
The CHIATORO Difference: No More Stomach-Burning Chilies
You might be wondering how you can reap the benefits of spicy chilies without burning your stomach. That's where CHIATORO's innovative method comes into play. By extracting the heat but preserving the nutrients, you can enjoy all the benefits of chili anytime, anywhere, without the discomfort.
Spice Up Your Meals: The Flavorful and Healthy Way
Not only is Chiatoro Chilli Snack a delicious and bold snack on its own, it can also be paired with other foods to add a spicy kick and take your taste buds to the next level. Sprinkle Chiatoro Chilli Snack on top of your favorite salads, stir-fries, or rice dishes to add an extra dimension of flavor and crunch.
For those who enjoy a little heat in their meals, Chiatoro Chilli Snack is the perfect addition to your spice arsenal. Whether you're looking to add some flavor to your lunchtime sandwich or wanting to elevate your dinner with a burst of bold and spicy flavor, Chiatoro Chilli Snack is the perfect ingredient to add to your culinary repertoire.
And whether you're snacking solo or spicing up your meals, Chiatoro Chilli Snack is the ultimate snack choice for anyone looking to add a little extra kick to their taste buds.
In Conclusion: The Perfect Fusion of Superfood and Snack
CHIATORO has truly revolutionized the snacking experience by combining the power of superfoods with the irresistible taste of chili snacks. With its impressive health benefits and delectable flavors, CHIATORO is the ultimate Super Snack that everyone can enjoy. It's time to indulge guilt-free and let your taste buds savor the extraordinary fusion of superfood and snack with CHIATORO.
Easy Wholesaler Sdn Bhd, as Chiatoro's authorized distributor in Malaysia, enthusiastically encourages you to reach out to us if you're keen on adding this fantastic product to your inventory.
Check out some of the Chiatoro's products we have in our online shop.