Exploring Authentic Korean Flavors with Meoyeongi Spicy Kimchi Fried Rice
In the world of ready-to-eat meals, the Meoyeongi Spicy Kimchi Fried Rice by Lioco stands out with its authentic Korean flavors. If you're looking to explore the rich gastronomic culture of Korea, this meal offers a unique and convenient culinary journey.
The Korean Culinary Experience in a Pack
The Meoyeongi Spicy Kimchi Fried Rice brings the heart of Korean cuisine to your table in just 3 minutes. This meal, with its robust and complex flavors, is more than just a quick fix. It's a gastronomic experience that takes you on a journey through the land of morning calm. As you savor each bite, you'll discover the elements that make Korean cuisine a global favorite.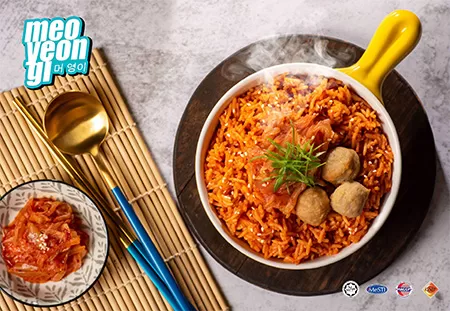 The Highlight: Spicy Kimchi Fried Rice
At the core of this meal is the spicy kimchi fried rice. Kimchi, a staple in Korean cuisine, lends its distinct flavor to the rice, creating a vibrant and piquant base. Stir-fried to perfection, the rice encapsulates the tangy, spicy, and umami qualities of kimchi, providing a flavorful and satisfying dish.
Complementing the rice are savory chicken meatballs, adding a hearty and protein-rich component to the meal. These meatballs, subtly seasoned and perfectly cooked, offer a delightful contrast to the vibrant kimchi fried rice.
The Aromatics: Enhancing the Flavor Profile
In true Korean style, the Meoyeongi Spicy Kimchi Fried Rice uses a blend of aromatics to enhance its flavor profile. Onion, leek, and garlic, staples in Korean cooking, are incorporated into the dish, adding depth and complexity to its taste. These ingredients, while simple, play a crucial role in bringing the authentic Korean experience to your plate.
A Taste of Korea in Every Bite
The Meoyeongi Spicy Kimchi Fried Rice by Lioco is not just a ready-to-eat meal; it's a tribute to the richness and diversity of Korean cuisine. It captures the essence of Korea's food culture in every bite, providing a unique and satisfying dining experience. Whether you're a Korean food enthusiast or someone looking to try new cuisines, this meal is a must-try.
In Conclusion: A Convenient Culinary Journey
With the Meoyeongi Spicy Kimchi Fried Rice, it is definitely a convenient and quick way to enjoy authentic Korean flavors. This ready-to-eat meal, with its harmony of tastes and textures, is a testament to the brand's commitment to delivering quality and flavor. So, why wait? Embark on your Korean culinary journey with the Meoyeongi Spicy Kimchi Fried Rice today!
A warm note from all of us at the Easy Wholesaler Team: We must admit, the Meoyeongi Spicy Kimchi Fried Rice does pack a spicy punch! But trust us when we say, if you love spicy food, this is absolutely delicious – it's just too good to resist. It's easily one of our top picks. We can't wait for you to try it!
Easy Wholesaler Sdn Bhd takes pride in being an Authorized Distributor for Meoyeongi Spicy Kimchi Fried Rice Ready Meals. Whether your interest lies in savouring this delectable dish for your own enjoyment, or in providing Meoyeongi Spicy Kimchi Fried Rice products to your patrons, we stand ready to cater to your needs. We encourage you to contact us for any queries or further information. Experience the seamless blend of convenience and superior quality with Meoyeongi Spicy Kimchi Fried Rice, a product we're proud to distribute at Easy Wholesaler Sdn Bhd.