Introduction to Roots Palate
If you are looking for a unique culinary adventure, then look no further. Roots Palate brings to you the taste of Malaysia in convenient, ready-to-eat meals. This plant-based brand is making waves in the food industry with its vegetarian meal packs that bring authentic Malaysian flavors right to your table.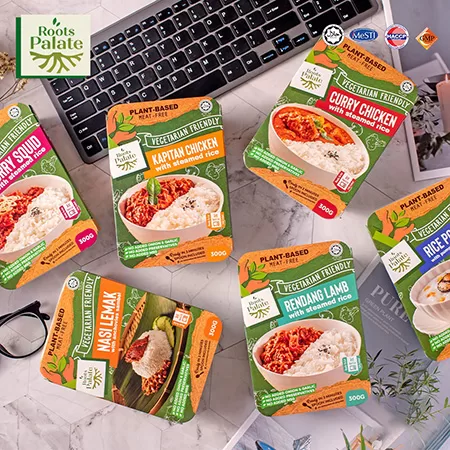 Exploring the Roots Palate Menu
Roots Palate offers a diverse range of meals to cater to different taste preferences. Their menu includes:
Vegetarian Rice Porridge with Pumpkin & Mushroom: A comforting dish full of hearty flavors and nutritious ingredients.
Vegetarian Curry Chicken with Steamed Rice: An irresistible combination of rich curry and tender plant-based chicken.
Vegetarian Rendang Lamb with Steamed Rice: Savour the classic Malaysian rendang with a vegetarian twist.
Vegetarian Curry Squid with Steamed Rice: A unique meal option featuring squid made from plant-based ingredients.
Vegetarian Nasi Lemak with Anchovies Sambal: Experience Malaysia's national dish made completely vegetarian.
Vegetarian Kapitan Chicken with Steamed Rice: Relish this Penang-style curry with plant-based chicken.
Each meal is crafted with care and passion, ensuring a delightful dining experience with every bite.
Quick and Easy to Prepare
One of the many advantages of Roots Palate's meals is their ease of preparation. These shelf-stable meals don't require refrigeration and can be prepared in minutes, making them a great option for those busy days when you still want to enjoy a flavorful meal.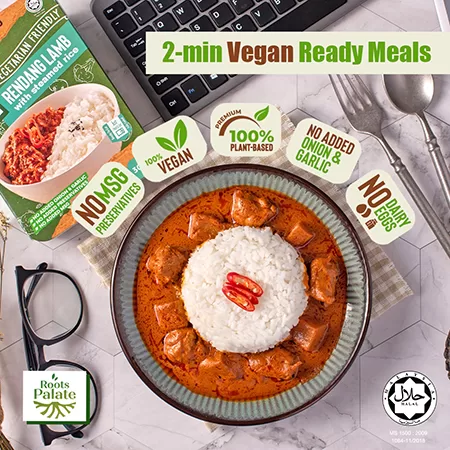 A Commitment to Quality
Roots Palate is a brand under Lioco Food Industries Sdn Bhd, a company known for its commitment to producing high-quality, ready-to-eat meals. By choosing Roots Palate, you're choosing meals that are not only delicious but also made with the highest standards of food safety and quality.
Conclusion
Roots Palate is more than just a meal—it's a culinary journey. By offering a variety of plant-based meals that capture the essence of Malaysian cuisine, Roots Palate is changing the way we experience ready meals. So why wait? Embark on your Malaysian culinary adventure with Roots Palate today!
Easy Wholesaler Sdn Bhd is an Authorized Distributor for Roots Palate Vegan Ready Meals. Whether you're looking to enjoy these delicious meals for personal consumption, or you're keen on offering Roots Palate products to your customers, we are here to meet your requirements. Please don't hesitate to reach out to us with any questions or for additional information. Experience the convenience and exceptional quality of Roots Palate, proudly distributed by Easy Wholesaler Sdn Bhd.