Introduction to Lava Bites Cookies
Lava Bites are a delicious range of chocolate cookies with different cream fillings, manufactured by Unico, a Malaysian confectionery company. In this article, we'll explore the company behind these tasty treats, the different flavors of Lava Bites, and where to find them.
Unico: The Company Behind Lava Bites
Unico, short for United Confectionery, is a Malaysian confectionery company that manufactures Lava Bites. Their mission is to provide top-quality chocolate products at affordable prices for consumers. Unico integrates research and development, production, and sales to create modern bakery products.
Unico is committed to 100% compliance with Halal requirements, food safety standards, and cleanliness. As a result, you can trust that their Lava Bites are created with care and attention to detail.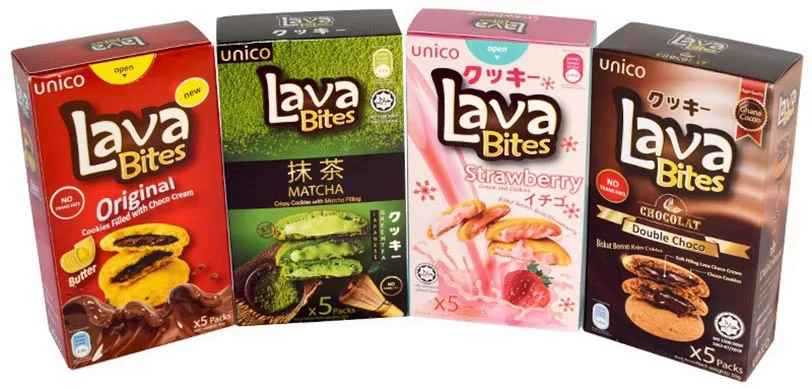 Indulge in the various flavors of Lava Bites:
Double Choco: Rich chocolate with smooth choco cream – a must for chocoholics.
Hazelnut Milk Choco: Creamy hazelnut milk with nutty flavor.
Matcha: Deep and distinct flavor of green tea.
Hojicha: Crunchy cookie meets Japanese roasted green tea flavor.
Butter Choco: Irresistible smooth butter and chocolate filling.
Strawberry: Crunchy cookies with sweet strawberry cream – a fruity twist on chocolate.
Double Chocolate Chip: Rich chocolate with smooth choco cream and chocolate chips.
Maoshan Durian: Flavor of the king of fruits.
Shelf Life of Lava Bites
Lava Bites cookies are made with the finest ingredients and do not contain any preservatives. Each cookies are individually wrapped to preserve freshness. The shelf life for our cookies is 1.5 years.
Certifications
Lava Bites products are certified HALAL and MESTI by following standard hygiene requirement and the syariah law in food preparation and manufacturing.
Conclusion
Lava Bites from Unico offer a delightful and unique taste experience, with their range of choco-cream filled cookies catering to different preferences. Manufactured with high standards, they make for a perfect snack or treat for chocolate lovers.
Don't miss out on the chance to add these hot selling cookies to your inventory! Contact us right away, we are a distributor for Lava Bites in Penang, and we'll make sure you get your hands on these irresistible treats. Act fast and delight your customers with the delicious flavors of our cookies. We can't wait to hear from you!
Check out some of the products of Lava Bites we have in our online shop.