What are Impact Mints?
Origins and history: Impact Mints are a popular brand of sugar-free mints. Known for their unique flavors and commitment to quality, these mints have become a favorite among consumers seeking a refreshing and guilt-free treat. The company has since expanded its reach, with its products now available in over 50 countries worldwide.
The unique selling proposition: What sets Impact Mints apart from other breath fresheners on the market is their dedication to using only the finest natural ingredients. By combining innovative flavor profiles with health-conscious choices, Impact Mints has created a truly unique product that appeals to a wide range of consumers.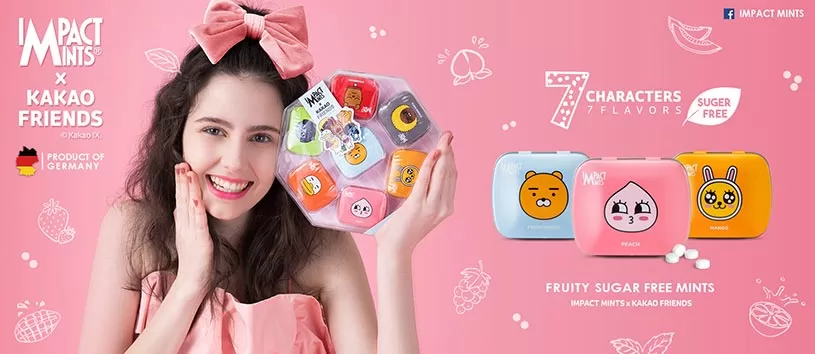 Impact Mints Flavors
Classic flavors: Impact Mints offer an array of classic flavors, such as peppermint, spearmint, and wintergreen, to provide a refreshing burst of taste that helps to combat bad breath. Each of these flavors is carefully crafted to deliver a long-lasting and invigorating experience.
Seasonal and limited editions: In addition to their classic offerings, Impact Mints also releases limited-edition flavors and seasonal selections. These exclusive mints provide customers with an opportunity to explore new and exciting taste sensations, keeping the brand fresh and innovative.
Take a look at their current available flavors:
Classic Series (Sugar-free)
Peach Mints – Used a special Japanese Peach to ensure the fragrance and taste is transferred to every part of your senses. A sensation in itself unmatched by any other.
Black Currant Mints – This has become a favorite among many as they taste the berry flavour with a hint of mint, watering your mouth and reaching every taste bud.
Strawberry Mints – The perfect red strawberry which you can enjoy every day with a glass of Champaign or without, as its like the real thing, tasty.
Honey Melon Mints – The healthiest Impact Mints ever – the remarkable Honey Melon taste with Vitamin C.
Mango Mints – The sunshine yellow with fresh Mango taste, bring a smile to your face anytime, everyday. Most uplifting taste ever.
Orange Mints – Another healthiest Impact Mints ever – remarkable Orange taste with Vitamin C.
Ice Mints – When you need freshness you will not be able to resist this peppermind and menthol mixture cooling your every breath.
Fresh Mints – The stylish black tin in combination with perfect freshness from our unique spearmint mix has ensured it's a constant companion of many.
Special Edition
Impact Mints X Kakoa Friends
S-Collection
 
Slim Slide Series (Sugar-Free)
Strong Mints – The strongest mints you have ever tasted. Conquer it. Made it Germany. Slim Slide Strong Mints are for heavy users who can take a real bite. Let the cold, intense and spice wave sweep through your mouth, arouse all your senses and give you long lasting fresh breath. The Strong Mints have a burn taste, but in a super refreshing and delightful way.
Peppermints Mints – When natural sweeteners meet the pleasant hotness of peppermints, you get the amazing Impact Slim Slide Peppermint. If you have an affection for layered and wonderfully complex flavours, these pepperminds have everything that you are looking for. The perfect blend of sweetness and mild hotness is simply irresistibly good. Slim Slide Peppermind give you a long lasting fresh breath. A healthy and refreshing treat which make you shine with glamour.
Spearmints Mints – You have that natural charm in you. Slim Slide Spearmints from Germany, all-natural, have that mild, sweet and enticing aroma which brings you to the most euphoric and relaxed state of mind. Let's not forget the cool, herby and long lasting after taste. Slim Slide Spearmints bring zero body burden and help you freshen up.
The Original Series (Sugar-Free)
Peppermints Mints – A soft peppermind tone where sweetness and hotness are in perfect harmony.
Spearmints Mint – With a sweet touch to this mild Spearmint flavour ensures you get all the freshness while enjoying a beautiful taste profile.
Health Benefits
Sugar-free: One of the most significant benefits of Impact Mints is their sugar-free formulation. By using alternative sweeteners such as xylitol, Impact Mints can cater to consumers who need or prefer to avoid sugar, like diabetics or those who are simply watching their sugar intake.
Natural ingredients: Impact Mints is committed to using only high-quality, natural ingredients in their products. This means that customers can enjoy these mints without worrying about artificial additives, flavors, or preservatives, ensuring a healthier and more enjoyable experience.
Dental health: Due to their sugar-free formulation and the use of xylitol as a sweetener, Impact Mints can actually have a positive effect on dental health. Xylitol has been shown to help reduce the risk of cavities and improve overall oral hygiene, making these mints a tasty and beneficial choice.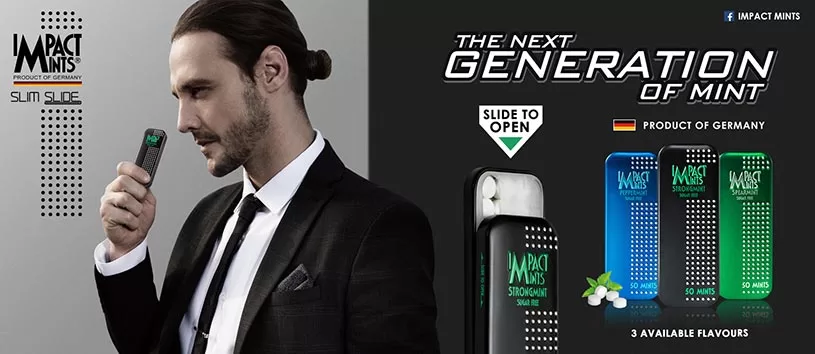 The Impact Mints Experience
Packaging – The sleek and minimalist packaging of Impact Mints is designed for both aesthetics and functionality. The convenient flip-top tin allows for easy access and portability, ensuring that fresh breath is always just a mint away.
Freshness – Impact Mints are known for their long-lasting freshness. Each mint provides an intense burst of flavor that lingers, leaving users with a refreshed feeling that lasts well beyond the initial minty sensation.
We are a distributor for Impact Mints in Penang. If you're keen on adding Impact Mints to your product range, feel free to get in touch with us at Easy Wholesaler Sdn Bhd.
Check out some of the products of Impact Mints we have in our online shop.