Introduction to Uncle Saba's Poppadoms
Uncle Saba's Poppadoms is revolutionizing the snack industry with its innovative and healthy take on a traditional Indian favorite. Combining the best of taste, nutrition, and convenience, these delicious poppadom lentil chips in a can are perfect for anyone looking for a guilt-free snacking option. In this article, we'll delve into the history, production process, and the wholesome goodness of Uncle Saba's Poppadoms that have captured the hearts of consumers in over 25 countries.
How to spell it?
Poppadoms, or is it Papadums, or Papadams? Honestly, doesn't matter how you spell it, different people have a different spelling for it. But what really matters is that Uncle Saba's got this awesome range of lentil and chickpea crisps that are gluten-free, packed with plant-based protein and fiber, and made with so much love.
The Story Behind Uncle Saba's Poppadoms
The journey of Uncle Saba's Poppadoms began in late 2015 when co-founder Sreenivas Saba and his father, Mr. S R Saba, decided to reposition their existing ready-to-cook poppadom brand 'Tajmahal Pappad' as a plant-based snack that would appeal to a wider audience. The company's roots can be traced back to over a century ago when Uncle Saba's father first arrived in Singapore in 1919 and set up a small shop. Today, Uncle Saba's Poppadoms is a global brand, proudly sharing its delicious and nutritious snacks with the world.
A Healthy and Tasty Alternative
Uncle Saba's Poppadoms are made from 100% urad dal beans, also known as black lentils or vigna mungo beans, making them a great source of plant-based protein and fibre. These scrumptious lentil chips are vegan-friendly, gluten-free, and contain 30% less saturated fat than the average chip, making them the ideal alternative to traditional junk food.
A Fla
vor for Every Craving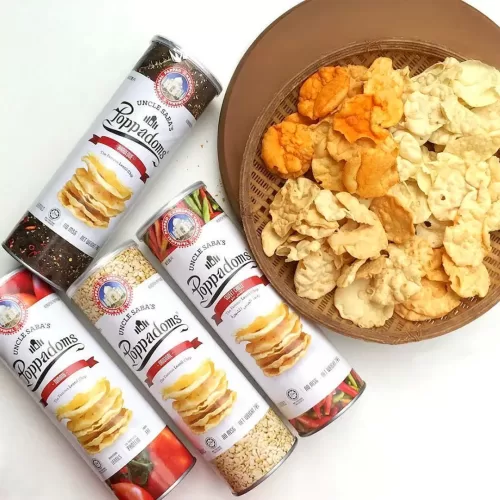 Uncle Saba's Poppadoms come in a variety of mouth-watering flavors, ensuring there's something for everyone. The original poppadom flavor is lightly seasoned with salt, cumin, and carom seeds, offering an authentic taste that has been carefully crafted with love and care in every bite. With a range of other delicious flavors also available, Uncle Saba's Poppadoms cater to diverse taste preferences.
Here's a closer look at the current flavors available:
Original: The classic Poppadoms flavor, perfect for those who love the authentic taste of lentil and chickpea crisps without any added seasoning.
Hot & Spicy: For fans of bold, fiery flavors, these Poppadoms pack a punch with their spicy kick, satisfying those who crave a little heat.
Tomato Ketchup: A popular choice for many, these Poppadoms are seasoned with the familiar taste of tangy tomato ketchup, providing a delightful, nostalgic flavor.
Sweet Chilli: A perfect blend of sweetness and spice, these Poppadoms deliver a tasty balance that will leave you wanting more.
Sour Cream & Onion: A classic flavor combination that never disappoints, these Poppadoms offer a creamy, tangy twist with the distinct taste of sour cream and onion.
Korean BBQ: Inspired by the rich, smoky flavors of Korean barbecued meats, these Poppadoms are a unique and flavorful treat for your taste buds.
Thai Tom Yum Seafood: A fusion of Thai cuisine's famous Tom Yum soup and the delectable taste of seafood, these Poppadoms bring an exotic, zesty flavor to the table.
Singapore Chilli Crab: Inspired by the iconic Singaporean dish, these Poppadoms capture the essence of Chilli Crab's savory, spicy, and slightly sweet flavors, making it a must-try for adventurous palates.
With such a diverse array of flavors, Uncle Saba's Poppadoms cater to every craving, making them the perfect snack for any occasion.
Innovative Packaging and Branding
The packaging and branding of Uncle Saba's Poppadoms were thoughtfully designed to be compelling, playful, and witty, reflecting the company's vision of a healthy and delicious snack that transcends cultural boundaries. The poppadoms are available in convenient canisters and pillow bags, making them the perfect snack for on-the-go moments.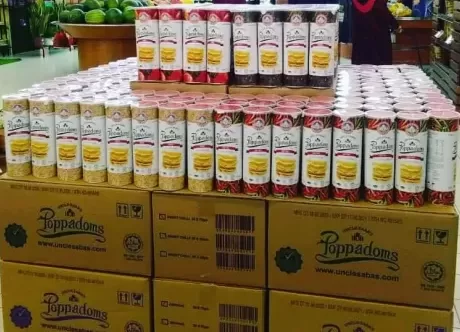 Certifications
Uncle Saba's takes quality and safety very seriously, which is why they hold multiple certifications to ensure their products meet the highest standards. They are BRCGS-certified, a prestigious global standard for food safety and quality management. Additionally, their products are Halal-certified, ensuring they adhere to Islamic dietary guidelines.
Furthermore, Uncle Saba's has HACCP certification, which stands for Hazard Analysis and Critical Control Points, demonstrating their commitment to identifying and controlling potential food safety hazards. The GMP (Good Manufacturing Practices) certification is another testament to their dedication to consistently producing high-quality products while maintaining a clean and safe production environment.
Lastly, Uncle Saba's is also STAR-K certified, which is a globally recognized kosher certification agency, ensuring their products meet the strict dietary requirements. All these certifications showcase Uncle Saba's unwavering commitment to quality, safety, and inclusivity in their products.
As a authorised distributor for Uncle Saba's Poppadoms, Easy Wholesaler Sdn Bhd is excited to offer you the opportunity to expand your inventory with their amazing attractive and hot selling Poppadoms. Don't wait to get in touch with us and learn about the wonderful advantages these delicious Poppadoms can bring to your business. Take advantage of this chance and connect with us right away!
Check out some of products of Uncle Saba's in our online shop.