Grain5 Wholegrain Seaweed Wasabi – SNEKKU – Family Pack 14g x 8 Packs
Hurry! Over 1 people have this in their carts
Brand: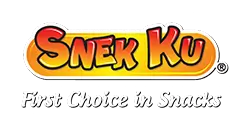 Snek Ku
RM4.80
... people are viewing this right now
---
Dive into the Bold Fusion of SNEK KU's Grain5 Wholegrain Seaweed Wasabi Flavour! 🌾🌊🔥
Presenting SNEK KU's latest masterpiece: The Grain5 Wholegrain Seaweed Wasabi Snack! A harmonious blend of five nutritious grains meets the tantalizing kick of seaweed and wasabi. This snack is a thrilling dance of health and flavor. Every bite promises a crunchy adventure with a spicy twist.
🌟 Highlights:
Nutrient-Packed: Crafted with a rich blend of grains like wheat, brown rice, and red rice.
Conveniently Portioned: 8 individual servings (14g each) for snacking delight anytime, anywhere.
Exotic Flavor Burst: Experience the unique blend of seaweed and wasabi in every bite!
📦 Packaging Details:
Total Weight: 112g (14g x 8 servings).
Guaranteed Freshness: 12-month shelf life.
Expiry: Clearly mentioned on the packaging.
🍃 Ingredients: Whole Grain Blend (25%) – Whole Wheat Flour, Brown Rice Powder, Red Rice Powder, Palm Olein, Corn, Wheat Flour, Oats, Soya Flour, Sugar, Seaweed Wasabi Seasoning, Wheat Fiber, Salt, and a touch of Raising Agent (Calcium Carbonate).
🚫 Allergy Information:
Contains Wheat, Soy, and Sulphites.
Made in a facility that also processes Fish, Crustaceans, Milk, Peanut, Egg, Tree Nut, Sesame, and Bean.
🔍 Nutritional Info (Per 30g Serving): Energy: 150kcal / 631kJ | Carbs: 18.2g | Protein: 2.5g | Fat: 7.5g.
Elevate your snack game with the Grain5 Wholegrain Seaweed Wasabi Snack. A flavor journey you won't want to miss! 🌾🌊🔥🍿🎉
| | |
| --- | --- |
| Weight | 0.7 kg |
| 1/2 carton | 14g x 8 Individual Packs x 12 Family Packs |
| 1 carton | 14g x 8 Individual Packs x 24 Family Packs |